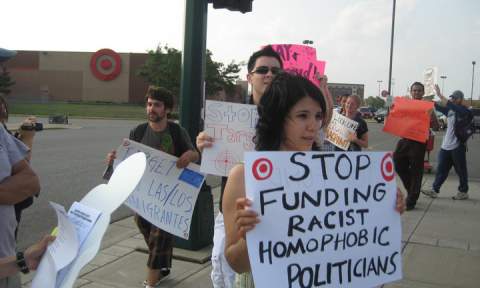 By Zack Ford
Think Progress
nationofchange.org
Despite promises to re-evaluate its political giving to be more LGBT-supportive, Target Corporation has given $50,000 to the Republican Governors Association (RGA) so far in 2013, donations that in turn have funded anti-LGBT gubernatorial candidates Ken Cuccinelli (R-VA) and Chris Christie (R-NJ). So far, RGA has spent over $3 million supporting Cuccinelli's campaign, at least $1.7 million on ads against Christie's opponent, Barbara Buono (D).
Cuccinelli is one of the most anti-LGBT candidates to ever run for public office. As recently as this Saturday, he doubled down on his belief that gay people are "soulless" and "self-destructive." Because he believes homosexuality violates "natural law," he has fought to preserve the state's "Crimes Against Nature" law, which criminalizes all oral and anal sex.
Christie's rhetoric against LGBT people has not been quite as incendiary, but he notably vetoed a bill that would have brought marriage equality to New Jersey. He personally opposes allowing same-sex couples to marry and believes that such civil rights should be only be considered through a popular vote, inviting a majority to determine the fate of a minority. In the wake of the Supreme Court's overturning of the Defense of Marriage Act, Christie is solely responsible for depriving same-sex couples of access to the over 1,000 federal benefits of marriage.
These values directly contradict Target's commitment to a taking a "leadership role" in supporting the LGBT community — a commitment made after weathering boycott threats because of its anti-gay political giving in Minnesota in 2010. This donation also does not align with pro-LGBT posturing the company has taken since then, including public advertisements for same-sex wedding registries and the sale of t-shirts that supported the Family Equality Council.
A spokesperson for Target provided the following comment to ThinkProgress, pointing out that Target also gave $50,000 to the Democratic Governors Association, which has backed Cuccinelli and Christie's pro-LGBT opponents:
Target's financial contributions are provided in a bi-partisan manner based strictly on issues that affect our business priorities. In the first half of 2013, Target donated equal amounts to both the Democratic and Republican Governors Associations. We are very transparent about our giving and provide updates on corporate and PAC giving here.
We believe that engaging in civic activities is an important part of operating a national retail business and believe we operate best when working with policy makers on both sides of the aisle.
As a company, we remain firmly committed to creating and fostering an environment where all of our team members and guests feel welcome, valued and respected. Target has a long history of supporting the LGBT community through giving, volunteerism and event sponsorship and participation and that support continues today.

The statement did not clarify how banning oral sex or preventing same-sex couples from marrying affect its business priorities. Giving the same amount to those who support the LGBT community as to those who oppose it does not excuse the latter, and does little to advance the cause of equality. If anything, it indicates that consideration for the LGBT community is not a business priority for Target.