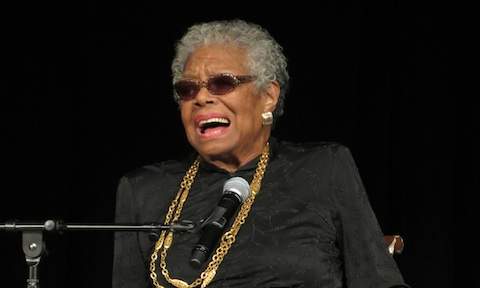 Maya Angelou, the esteemed poet, writer, and actress

died

Wednesday in her Winston-Salem home. The literary giant, most known for her autobiography, I Know Why the Caged Bird Sings, and Phenomenal Woman, a collection of poetry, was one of the foremost African-American writers and thinkers of her time. But society often forgets her legacy as a fierce civil rights activist, and someone who did not shy away from political controversy.
Here are five facts you should know about Maya Angelou, the freedom fighter.
1. Angelou was a close associate with Malcolm X prior to his assassination and had plans to start a new effort with him to advance African-American rights. According to Angelou, she

intended

to jump-start the Organization of African-American Unity with Malcolm X. The two intended to vocalize the issues plaguing black people in the U.S. to the United Nations, with the hope that the international body would assist in their struggle.
2. Angelou was a leader of the Southern Christian Leadership Conference (SCLC).SCLC, an organization founded by Martin Luther King which preached nonviolence, was instrumental in arranging protests and voter registration drives. Before becoming a member, she

arranged

the Cabaret for Freedom, a five-week show that raised money for the organization. After the play's success, she was asked by Bayard Rustin to become the Northern Coordinator of the SCLC, and was instrumental in fundraising and promoting the organization's mission.
3. Angelou supported Cuban leader Fidel Castro, despite his rivalry with U.S. leaders.

She once wrote

, "Of course, Castro never had called himself white, so he was O.K. from the git. Anyhow, America hated Russians, and as black people often said, 'Wasn't no Communist country that put my grandpappa in slavery. Wasn't no Communist lynched my poppa or raped my mamma.'" Her commentary aligned with Pan-Africanism and anti-colonial sentiments, according to which people of color — particularly those in the African Diaspora — identified their struggles as part of one larger, systemic fight.
4. Angelou was a staunch advocate for marriage equality. Angelou

personally called

New York state Senator Shirley Huntley (D) to voice her support of same-sex marriage, which the the state was considering and the Senator opposed. During the call she said, "To love someone takes a lot of courage," she said. "So how much more is one challenged when the love is of the same sex and the laws say, 'I forbid you from loving this person'?" Huntley ended up

voting for

the measure.
5. Angelou made a strong moral case for action to recover the kidnapped Nigerian school girls. Angelou never lost her commitment to social justice. Earlier this month she tweeted about the kidnapped girls in Nigeria.
ABOUT Carimah Townes
Carimah Townes
is a Special Assistant for ThinkProgress. She received a B.A. in political science from UCLA, where she also minored in cultural anthropology. While in school, she served as a festival planner and interned with the Office of Mayor Villaraigosa. Before joining ThinkProgress, she worked for the National Center for Lesbian Rights and interned with the Communications and Development teams at Vital Voices Global Partnership. Carimah is originally from Amherst, Massachusetts.