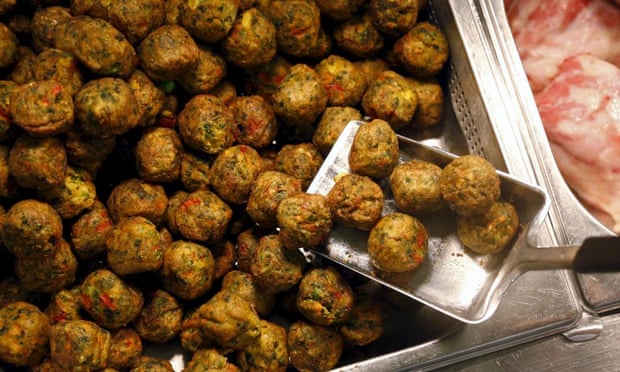 The Bible is not that specific in its depictions of the infamous world "Hell". It's all "fiery lakes" and "everlasting destruction" and "weeping and gnashing of teeth".These days, of course, we don't need a description. We can just go to Ikea.
Ikea is a place of great suffering and torment. It is a place of unimaginable horror. It is a place where it's extremely difficult to find the exit.
And now, thanks to its decision to try and take its menu healthy – starting with the introduction of "veggie balls" alongside its famous Swedish meatballs – it has got even worse.
With any place that's bloody awful, there is usually one saving grace. In the case of Ikea, it has always been the food. The junk food.
More than 600 million customers eat Ikea food every year. That's no surprise. The one thing that makes an Ikea trip tolerable is the prospect of eating some salty, fatty, I-don't-give-a-shit food at some point during the ordeal.
But now, it seems, not even our junk food is safe. Our Swedish tormentor is introducing vegetarian meatballs at its in-store restaurants, in what it says is the first step in a bid to bring "healthier food" to its menus. Frozen yoghurt and flavoured water are also planned, and, according to the Wall Street Journal, Ikea "has more up its sleeve".
The thing is, though: this is all wrong. All of it. People do not want healthy food from Ikea. If you're going to Ikea, you've already committed to the day being a write-off. You want to eat poorly.
When you approach the Ikea food counter, you've spent the last four hours wandering round a huge warehouse. Round a space that is deliberately designed to make it impossible for you to escape. You've had no daylight in that time. You have been sent on fruitless missions to find things that don't exist. The sound of children screaming has surrounded you, haunted you, during the entire experience.
What would you want having been through this? Quinoa and pine nuts? Cous cous and spinach? A celery stick? It'd take you right back there. You'd be able to hear their screams.
No, what you need is meatballs – don't bother about what meat – and mashed potato. Or some chicken tenders – they're like chicken nuggets, but longer – and fries. Or a big ice cream and a can of pop.
The veggie ball is a misnomer. Ikea already does vegetarian food. It's called pizza and fries.
We don't want your veggie ball, Ikea. We don't need your veggie ball. We're trapped in your impenetrable warehouse, gorging on fries in your Swedish restaurant, and we like it just fine.
Contact author